We're OPEN
CURA Medical Clinic Address: 1012 W Taft St, Sapulpa, OK 74066
Hours of Operation: Tuesday 5:30 pm - 7:30pm
The Why
There are 41 million uninsured people in the United States, including people who are part of the work force but can not afford medical coverage.
Mirrored to this disheartening statistic, there are 1,400 officially registered free clinics in the country (according to the National Association of Free and Charitable Clinics) that are only able to provide services to about 5 million people. Leaving 36 million Americans to flood emergency departments with a great number of easily manageable conditions.
CURA for the world is on a mission to launch a free clinic in every state. Our focus locations are the outskirts of major cities where access to the rural and semi-rural patient is easy.
CURA for the world will launch its FIRST US Free Clinic, to treat, educate and care for the uninsured in Oklahoma.
CURA's Free Clinics will be offering services to economically disadvantaged individuals for free. Care will be provided free of cost to persons who have limited incomes, no health insurance or who do not qualify for Medicaid or Medicare.
CURA's free clinics will offer treatment for routine illness; and long-term chronic conditions such as high blood pressure, diabetes, asthma, and high cholesterol. Also CURA's free clinics will provide a limited range of medical testing, prescription drug assistance, women's health care, and free child therapy sessions.
At the moment our first US CURA Clinic will NOT be providing pregnancy testing, Pap smears, or STD testing; these services are available at the Health Department. We will not handle emergency conditions or employment related injuries. We will NOT offer stimulants, controlled substances, or care for chronic pain patients.
NO controlled substances are prescribed or kept on site.
Profile: Sapulpa, Ok
17.4% of the population for whom poverty status is determined in Sapulpa, Oklahoma (3,531 out of 20,257 people) live below the poverty line, a number that is higher than the national average of 14%. The largest demographic living in poverty is Female 25-34, followed by Female 35-44. The most common racial or ethnic group living below the poverty line in Sapulpa, Oklahoma is White, followed by American Indian and Black or African American. Sapulpa, Oklahoma has a large population of military personnel who served in Vietnam, 2.5 times greater than any other conflict. Okfuskee County, OK on the outskirts of Sapulpa has the highest prevalence of homicides of any county in Oklahoma.
The Who
CURA's clinic will be directed by Dr. Rachel Ray and Dr. Zach Fowler. CURA for the world is excited to have Rachel and Zach be part of PROJECT USA #HEALTHCAREFORALL mission to bring healing to our country's uninsured.
Our first CURA for the world's free clinic will be located in Sapulpa (1012 W Taft St, Sapulpa, OK 74066), with the space donated by
Ms. Michelle Jewell.
Dr. Fowler is a graduate of Oklahoma State University Center for Health Sciences. He is a Board Certified Family Medicine physician and teaches at the OSU college of Osteopathic medicine. Zach is married and has 2 sons. He is an avid outdoorsman with a passion for running, hiking, teaching, woodworking, exploring and traveling.
Dr. Ray is a graduate of Oklahoma State University Center for Health Sciences. She is a Board Certified Family Medicine physician. Dr Ray has a heart for helping the underserved. She served for four years as a primary care provider for the Indian Health Care system. She is excited to partner with CURA to provide care to the poorly represented in Oklahoma. She is married and has four children. She loves to read, travel, and spend time with her family and friends.
Sam Elzay is a graduate from Campbell University College of Pharmacy and Health Sciences. He graduated from a dual degree MSPH MPAP program and has interests in improving social disparities and large scale disaster response. This former Park Ranger enjoys time with his wife and their dogs in the outdoors. His wife is pursing her PhD at Oklahoma State in Stillwater.
Travis and Sunni Wolff, PharmDs
Travis Wolff, PharmD, BCACP
Travis is a community pharmacist and pharmacy owner of Med-World Pharmacy in Sapulpa and Apothecary Pharmacy in Mounds. He is a graduate of SWOSU College of Pharmacy. His passion lies in implementing clinical patient care models within a community pharmacy so that patients can have ultimate access to care. As a missionary to Haiti, Travis has long seen the need in this community and looks forward to serving alongside such exceptional people with CURA. Travis is married to his wife Sunni, and they have one son. He loves to read, cook, mow the yard, and work in his flower beds.
Sunni Wolff, PharmD
Sunni is a graduate of Southwestern Oklahoma State University College of Pharmacy. She is a pharmacist at Med-World Pharmacy in Sapulpa and Apothecary Pharmacy in Mounds. Sunni and her husband Travis have one son, one dog, and one cat. Sunni enjoys coffee, reading, pilates, cooking, and working outside.
THE HOW
Help us start a movement across the country where we all STAND together to lend a helping hand to the less fortunate.
LET'S GO!
SPONSOR A CLINIC IN YOUR OWN STATE
RALLY YOUR FRIENDS
CREATE A FUNDRAISER - A PARTY - AN ONLINE CAMPAIGN - A LEMONADE STAND - DONATE YOUR BIRTHDAY
BE THE VOICE IN YOUR STATE FOR PROJECT USA #HEALTHCAREFORALL
FIND A DONOR - TO SPONSOR THE LOCATION
FIND A DOCTOR - TO DIRECT THE CLINIC
You can do anything to raise money.
Need some inspiration? This is CURA's latest campaigner that we will never forget.
Based out of Oklahoma City, Piper is an artist, a wife and a mother of three beautiful children. she painted a 30x40 painting titled "Restore" raising $1075 towards our PROJECT USA #Healthcareforall campaign, and matched the winning bid with an equal amount for a total of $2150. Check out Piper's beautiful work on instagram @piperbstudio.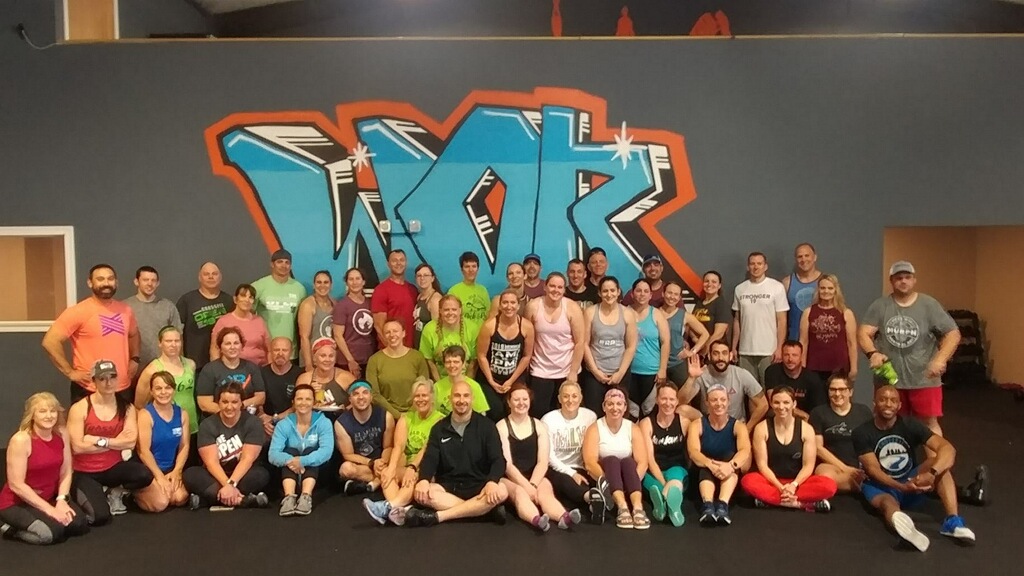 Throw a Cross Fit Challenge
We had an absolutely HUGE turnout for the Cura Clinic Row-athon! Collectively the group rowed 590,730 meters with a complete working time of 44hrs 20 minutes!!! Special Thank you to CrossFit West of the river, CrossFit 1055 and CrossFit Sand Springs because of you we raised enough money to cover purchasing an AED and ancillary equipment for our clinic in Oklahoma.